Registered User
Posts: 1
I hope It doesn't matter that I post this here, but I figured that this is where I could reach my fam out here in the NW.
Whats up fam?
I just wanted to share my T-Shirt line that I currently Own/Operate. I've been designing for years and I enjoy doing so. I started my company in 2009, and really never put much effort into it. Now that I'm in college, I decided it was time to try it again and see what I can make of myself.
All my designs are based out of the Northwest, and are oriented around the Northwest. I use animals, ideas, and landmarks that all come from Oregon/Washington.
For now, I am currently just working on getting established again to get going.
Here is what we have to offer right now...
"Circle of the Northwest"
Tshirt is supposed to symbolize everything that comes out of the Northwest. We're known for our Animals, Scenic Areas, Trees, and Big Cities. The City Skyline is Portland, Oregon.
Summer 2012 Tee "Wolf"
With every line of clothing that we release, I want to include a tshirt that is simply based around an animal. For the summer 2012 tee, I decided to draw up a wolf and I loved the way it turned out. So that's what we have for this line.
Past Tees
"Keep Moving Forward"
I made this design back in 2009 and it sold out pretty quickly. It was supposed to represent the constant idea of never giving up. It doesn't matter what race, ethnicity, size or statuer, never give up and keep moving forward.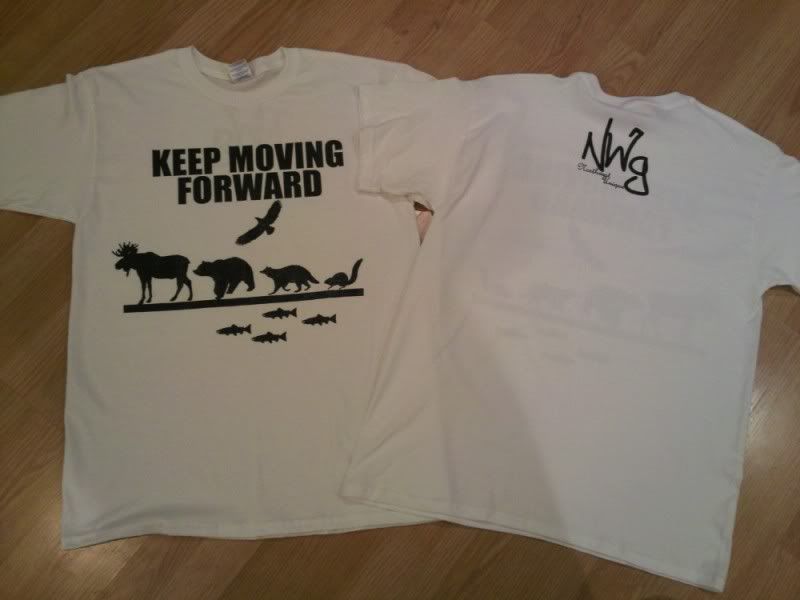 I have a lot of future plans for my shirts, I just am starting out small. I am trying to keep my designs simple, and will get more elaborate in the future. I have some mock ups made for a possible summer 2 release, but we will see.
Any comments are appreciated.
Thanks!
Here are the links to my site and stuff if you're interested.